Places to Eat & Drink in Northumberland
There are so many great places to eat and drink in Northumberland, you're sure to be spoilt for choice. Whether you're visiting Alnwick, the coast, or Berwick-upon-Tweed, there are plenty of wonderful meals to be had. Or, you can pop into one of the region's many pubs to get a taste of true British culture and try out some of our local ales.

Whether you're travelling with your partner and would like to enjoy a date night together, or you're in Northumberland with your whole family and need somewhere that will cater to everyone's tastes, you'll have no trouble finding the perfect place to eat or drink. From fancy restaurants that offer a unique dining experience to relaxed cafés where you can enjoy a cup of tea while reading your book, Northumberland has it all.
By Cuisine
If you're looking for food in Northumberland and are craving a particular cuisine, you have nothing to worry about: you'll be able to find just what you're looking for. If you would like to sample some authentic British dishes, there are plenty of place to do this, from cosy gastropubs to luxurious restaurants that serve creative English meals using local seasonal produce.

The area also offers cuisines from across the globe. Whether you're in the mood for an authentic Indian curry, you would like to try some Asian fusion food, or you'll be dining with a large party and would like to share some tapas, you'll be well catered for in Northumberland. Here, we'll take you through just some of the options you'll have.
Experience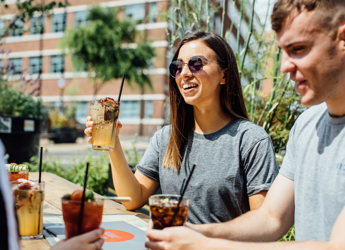 Alfresco Summer Nights in the North East

28 Apr 2021