Places to Eat & Drink in Sunderland
If you're planning a trip to the North East of England, make sure you visit some of the best food and drinks places in Sunderland. Whether you're passing through the city on a day trip or you've decided to spend a few days near the sea in Roker, there are plenty of wonderful restaurants, bars, and cafés to visit.

There are lots of quaint pubs where you can enjoy a pint on a Friday night, elegant bars with extensive cocktail lists, and fancy restaurants where you can celebrate a special occasion. Or, why not stop by one of Sunderland's many cafés to enjoy a cup of tea and slice of cake during a day of shopping? Here, we'll take you through the places where you'll find the best drinks and food in Sunderland.
By Cuisine
If you've got a craving for a particular cuisine, we're sure Sunderland will be able to deliver. This diverse city is home to a vast array of restaurants that serve traditional and more unique dishes from across the globe, which means you should have no trouble finding the perfect place to eat.
Whether you would like to try some British delicacies while you're visiting, you're a huge fan of Chinese food, or you're searching for some Italian comfort food, we guarantee you'll find the ideal food places in Sunderland city centre and beyond.
Experience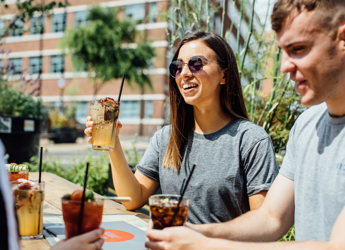 Alfresco Summer Nights in the North East

28 Apr 2021