Places to Eat & Drink in Gateshead 
There are all sorts of things to see and do in Gateshead, and the town is home to a cutting-edge art gallery, a world-class shopper's paradise and the iconic Angel of the North. But many people don't realise that it's also an ideal destination for foodies, and there are lots of fabulous places to eat and drink in Gateshead.

From high-dining restaurants that offer a luxurious experience, to cosy pubs and casual cafés where you can find a quick bite to eat, Gateshead really does have something for everyone. So, whether you're visiting for a whole week or are just in town for the day, you'll have no difficulty finding a place to enjoy a delicious meal. Read on to discover a few of our top recommendations. You might also want to check out our round-up of the best restaurants in Newcastle, which is just over the river from Gateshead.
By Cuisine
Gateshead might be a small town, but you can find almost any type of cuisine from around the world here. From spicy Indian curries made using freshly ground spices, to real Mexican enchiladas and burritos, there's an option to satisfy almost any craving you might have during your time in the North East.

Naturally, if this is your first time in England, you'll want to test out some of the local delicacies such as mince and dumplings or fish and chips. Fortunately, there are also plenty of places in Gateshead that serve delicious British food, so you're in good hands. Here, we'll take you through a few of the different types of cuisine you can expect to find in Gateshead.
Experience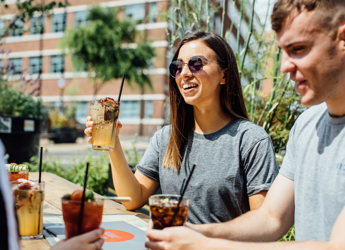 Alfresco Summer Nights in the North East

28 Apr 2021