Places to Eat & Drink in Tynemouth & Whitley Bay 
There's certainly no shortage of fantastic places to eat and drink in Tynemouth and Whitley Bay. From fancy fine dining restaurants, to cosy cafés and pubs, these charming coastal towns have it all. So, you'll have no trouble finding plenty of options for breakfast, lunch, and dinner — and a few places to enjoy a nightcap afterwards, too.

While the region is perhaps best known for its great seafood restaurants, it's also home to plenty of other cuisines. And, while the two towns might seem quaint at first glance, there are lots of lively bars and pubs that come alive after dark, too. So, whether you're just visiting the seaside for the day, or plan to stay for a long weekend, there are more than enough food and drinks places to keep you busy in Tynemouth and Whitley Bay from dawn until dusk — learn more in our handy guide.
By Cuisine
If you're craving a certain type of food during your visit, then you're in luck: you can find a huge variety of different cuisines from across the world on offer in Tynemouth and Whitley Bay. So, whether you'd like to enjoy a classic curry, or you'd like to get adventurous with some Thai fusion food, there's something that will satisfy your cravings in this corner of the North East. 
If you've always wanted to try British foods, there are plenty of places serving up classic pies, hearty stews, and proper roast dinners. And, of course, no trip to the British seaside would be complete without some fresh fish and chips, so you'll definitely want to pay a visit to one of Tynemouth and Whitley Bay's many seafood restaurants, including one famous spot located right on the beach itself. We'll talk you through your options below.
Experience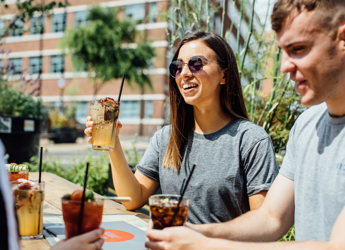 Alfresco Summer Nights in the North East

28 Apr 2021